Admission Open for 2021-22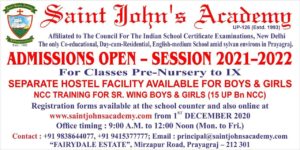 Admission open for academic session 2021-22 for classes P. Nur. to IX only. Separate hostel facility available for boys & girls (Classes II–IX).
Online Registration facility is available. Visit https://www.sjacampuscare.in/Logon/TPLoginRegistration for Online Registration. Registration forms available at the school counter on all working days from December 1, 2020, timing from 9:00 am to 12:00 noon.
The following table enumerates the date of birth and age for admissions in the respective classes.
| | | |
| --- | --- | --- |
| CLASS | AGE IN YEARS | BEFORE |
| P.-NURS | 3 + | 31ST MARCH 2018 |
| NURS | 4+ | 31ST MARCH 2017 |
| PREP | 5+ | 31ST MARCH 2016 |
| I | 6+ | 31ST MARCH 2015 |
| II | 7+ | 31ST MARCH 2014 |
| III | 8+ | 31ST MARCH 2013 |
| IV | 9+ | 31ST MARCH 2012 |
| V | 10+ | 31ST MARCH 2011 |
| VI | 11+ | 31ST MARCH 2010 |
| VII | 12+ | 31ST MARCH 2009 |
| VIII | 13+ | 31ST MARCH 2008 |
| IX | 14+ | 31ST MARCH 2007 |